Social anxiety and job hunting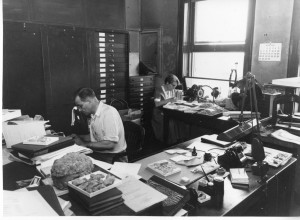 Two weeks ago, I took the leap and moved back to my apartment in Montreal. I had been living at home in Ontario for the past five months with my parents while I worked on overcoming my recently diagnosed panic disorder. But now I'm back, ready for summer school and reintegrating into society.
These two weeks have been great; reconnecting with school friends, exploring my favorite city once again, getting back into the "groove." But there's one problem: I need a job.
To me, social anxiety and job hunting seem almost oxymoronic as a pair. The fact that job hunting basically touches on all my social fears makes it a very difficult and frustrating time for me. I'm afraid of talking on the phone, of being judged, of being unfairly categorized, and of making small talk. So how do I find a job?
So far, I've had some great leads. I've managed to find some online work that involves no face-to-face interaction or phone calls. I'm in the running for a couple writing positions that also require very little interpersonal time. These positions are perfect, because I'm looking for a couple part-time jobs while I'm in summer school (for a little extra pocket money). But what if I were looking for a full-time job?
Today I want to go over a few tips for getting around your social anxiety in the job hunting process. This isn't a post about overcoming social anxiety (that takes time), but rather about not letting it prevent you from paying bills.
Take advantage of your skill set. Everyone has a skill set. For some, it may be a list of fancy degrees and research experience. For others, it may be the ability to lift heavy objects and be comfortable working long hours. Whatever your particular skill set, find jobs that cater to it. If you take jobs that you feel qualified for, then you will be less likely to feel anxious while working and you'll probably be more confident in your interview. If you have to lie about or embellish your skill set to get a job, chances are your anxiety will be high from the very beginning.

Work within your comfort zone. Find jobs that you're comfortable working. Perhaps, like me, you have a lot of experience in retail from high school/college jobs, but you're not comfortable working in that environment anymore. Instead, look for jobs that cater to your comfort zone: instead of looking for retail or customer service jobs, I've been hunting for writing jobs. I had no formal experience in writing, so I made my own experience (I created this blog). Maybe your job transition can be a little less dramatic. Instead of working as a server, maybe you want to move back to the kitchen where you have less interaction with other people.
Be open about your anxiety. (Or not.) Often, being open about your social anxiety can be a huge relief when finding a new job. There are many employers out there who are very understanding when it comes to mental health accommodations. But there are also many employers who would discriminate against a potential employee who has a mental illness. Personally, I would never mention my anxiety in a job interview, but I would bring it up if I thought there was some way I could work around it with the help of my employer. Summer Beretsky wrote an article on requesting workplace accommodations for panic disorder, and a lot of the same points are relevant to social anxiety as well.
Practice with a support figure. If you're nervous about the interview, one of the best ways to prepare is to hold a "mock interview" with a support figure. Sit down with your spouse or parent or close friend and have them ask you a series of questions that a potential interviewer may ask. It may seem too artificial to be helpful, but I've found that practicing interviews really does help alleviate some of my anxiety. It helps me gain some clarity as to why I'm anxious and what coping mechanisms I can use during the real interview to keep myself calm.
Talk to your doctor. I went to see my psychiatrist about a year ago when I was struggling with giving presentations, and I was prescribed propranolol. Propranolol is a beta blocker that helps me give presentations without any of my characteristic social anxiety symptoms: trembling, stuttering, sweating, heart racing, erratic breathing. If you believe you would benefit from the beta blocking effects of propranolol, mention it to your doctor.
How do you cope with job hunting? Do social anxiety and job hunting mix well for you? Let me know in the comments below. 🙂