Empty smiles: living with an invisible (mental) illness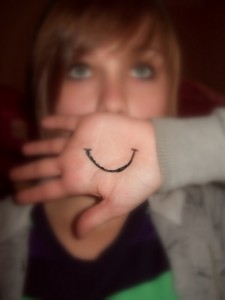 Today, I want to share a story. The year is 2012, and I'm back at school living a "normal" life. In order to move forward with my thesis project, I have to defend my thesis proposal in front of my professor and my fellow honors students. Like the procrastinator I am, I leave the presentation to put together the night before I'm scheduled to present. The following morning, I wake up and I instantly know it's going to be a tough day. I gather all my stuff together, stuff a piece of toast in my mouth, and run out the door. In my bag is a little bottle filled with propranolol, a medication that calms me down and stops my physical anxiety symptoms from manifesting. I get to the psychology building forty minutes early, just to be sure I'm not late for my proposal defense. As my hands start to shake and my heart rate speeds up at the thought of speaking in front of my peers and professor, I pop one 20 mg dose of propranolol to calm down. Of course, unlike Xanax and other benzodiazepines, the propranolol does nothing to calm my racing thoughts and feelings, it just paralyzes my body a little bit so that other people can't tell how out-of-control anxious I am.
Time is ticking by, and the other students in my seminar begin to show up. I laugh when they ask if I'm nervous, trying my best to avoid the question. I wouldn't say I'm nervous – I'm freaking out! The metaphoric bell rings, and we all file in to the seminar room. The propranolol has slowed my heart, so I feel a little bit of relief, but my thoughts are racing and I have a crippling sense of dread. I stand up in front of the class and start talking. It feels like the room is narrowing in around me, as if the world is dissolving away and I'm left alone with my fear. My speech begins to feel automated, as if I'm on autopilot and the words are just spewing out on cue. I speak with adequate intonation, I have a good blend of hand gestures and eye contact; all in all, the presentation goes well enough. But inside my mind, a war is being waged.
After the presentation, I sit down and receive the usual reassurances – you did great, you spoke well, you seemed calm. (I laugh a little bit at the notion that I could ever "seem calm.") As I sit back in my chair and listen to the next presentation, I can feel my chest burning up, and sure enough, I've developed a rash. It feels like I just ran a marathon. I can barely pay attention to what's going on around me; my body is in recovery mode, trying to reach a state of equilibrium again.
On the surface, I wasn't any more nervous to give that presentation than anyone else. In fact, I probably looked more calm than my peers thanks to the propranolol slowing my heart and calming my breathing. And that is the hardest part of living with a mental illness: the semblance of normalcy. The appearance of health. Mental illness isn't something that you wear on your sleeve, it doesn't come with canes or walkers, it leaves no blemishes or bruises. To the outside world, I'm no different than anyone else. But if there's anything I've learned through this process, it's that no one can tell me what I'm feeling. I know the difference between normal nervousness and crippling anxiety. For other people who can't see inside my head, my illness is only as real as I say it is.
It comes as a surprise to most people when I tell them I have an anxiety disorder. Some are empathetic, some indifferent, and some would like to think they can cure me. If you've ever had to "come out" with a mental illness, then you know the interesting reactions you can get. Sometimes you hear things like…
"But you've never seemed anxious before." Well, thanks. I've had anxiety for 8 years. It surely doesn't take 8 years to learn how to hide something from other people.
"Everyone has anxiety." Thank you, I wasn't aware. I guess I'll just have to stop being such a baby, right?
"Stop worrying about it so much and just get over it." Great advice. I would be ecstatic if it were that easy. It's not. I've tried.
To other people's credit, it can be hard to hear that someone you know well is sick, especially if it's not immediately apparent. Everyone loves giving advice – myself included – so it can be difficult to bite back the comments that spring to mind and listen. It is true that everyone experiences some level of anxiety (anxiety is normal, healthy even, in small doses), so of course everyone feels like an anxiety expert of sorts. Thanks to the laundry list of cognitive biases that plague our minds, everyone has their own take on how the world works and what people need most.
I spend a lot of my time pretending to be perfectly normal. It's a choice I make, because I want to live a normal life without letting my disorder get the best of me. Sometimes, I'm forced to lie. From colds to stomach flus, I get a lot of mystery illnesses. It's a lot easier to tell someone I can't leave the house because I have a heavy fever than to admit I'm too scared of having a panic attack to sit through a meeting. I would rather say that I'm hungover from last night than admit the real reason I can't go to brunch is that I'm too anxious to sit at a table with other people.
However, in the past couple months I've learned that sometimes, opening up and talking about how you're feeling can do a lot more good than you'd think. Talking my anxiety out can sometimes help me get to the root of the problem and feel better much quicker than hiding it. It's a tough route to go though; if you're anything like me, you can fill entire conversations with how you're feeling. It can be difficult to get across how you're really feeling without being overly wordy. You might leave out some important parts of what's going on in your head and give the wrong impression of your general state of being. Taking those first steps – admitting to someone that you suffer from anxiety – can be incredibly beneficial on its own. 
Yes, sometimes there are empty smiles. Sometimes I laugh when I really want to scream and throw things. Sometimes I respond with vague one-word answers when I'm not really listening because I'm fighting back the urge to race out of the room. But that isn't to say I'm not really here. I'm me, just as I'm me when I'm not ill. Hiding your illness doesn't make you a bad person. Neither does opening up about it. Those are just two of the options we have as sufferers of so-called "invisible" illnesses. You may choose to let some people know and not others. Some situations demand that you explain your erratic behavior, while other situations permit you to avoid the topic. In the end, you control how other people perceive you, and there is no right or wrong way to approach (or avoid) the subject of your illness.
How do you cope with your invisible illness? Are you open about it, or do you prefer to hide it? Leave me a comment; I would love to hear your answers.