Identifying Self-Medicating Behaviors in Social Phobia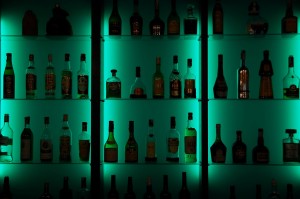 Most of us like to have a few drinks when we're out socializing. After a long week of work or school, what sounds more pleasant than hitting the patio at a local pub for a pitcher of cold beer or a glass of Chardonnay? Maybe you're more into martinis or daiquiris. Well, whatever your poison, drinking alcoholic beverages is a lasting aspect of human culture; one that surely isn't going to change anytime soon.
Social drinking presents a particular challenge for those of us who suffer from social anxiety. For someone who fears social situations, consuming a depressant like alcohol in a socially acceptable manner seems like the perfect solution. Alcohol lowers our natural inhibitions, making us less worried about how we present ourselves, which is a dream for social phobics.
Unfortunately, alcohol consumption is often a safety behavior, which means that it's perpetuating your anxiety. As I've mentioned before in my post on agoraphobia, anxiety is all about associative learning. The anxious brain has learned to fear particular situations thanks to years of reinforcement.
If every time the phone rings, you avoid it at all costs, your brain begins to associate the phone ringing with the sensation of fear. Similarly, if you get drunk every time you're out at a party, you will learn that you can't handle social situations when you're sober.
The problem is teasing out the difference between self-medicating and having fun. Just because you have social anxiety doesn't mean that every drink you take is perpetuating the problem. When I'm sitting around with my roommates polishing off a case of beer after a tough exam, I'm certainly not self-medicating. I'm just being a regular college student. But when I have to do five shots of tequila before I can leave for a party, then maybe it's time to start looking at my behavior.
Here is a list of questions to ask yourself when considering your (potentially) self-medicating behavior:
How often do I enjoy social events when I'm sober?

How often do I turn down alcohol when I'm in a social situation?
Do I ever drink alone?
Do I make stronger drinks for myself than for others?
Am I always the one who instigates drinking?
Am I always encouraging my friends to start drinking earlier in the day?
Do I reliably drink much more when out at an event than in the comfort of my home?
Do I feel like I'm always in a rush to get drunk?
There's nothing wrong with enjoying some drinks with your friends. I don't even believe that drinking alone is always a problem behavior – sometimes a cold beer is just so much more pleasant than a Coke.
It's in exploring the motivation behind these behaviors that we can get to the root of the problem. If you're having a glass of wine because you love the taste of wine, then you're probably fine. If you're polishing off  a bottle of wine in order to be better prepared to socialize at a work party, then maybe it's time you take a hard look at your drinking habits.
To finish off, I just want to mention that there are many other reasons for self-medicating than social anxiety. Some people drink before bed to sleep better, others drink to avoid painful memories, while still others drink to avoid life in general. Today's post was not meant to touch on addiction or mood disorders. Alcohol consumption is a touchy issue, so I may devote a more comprehensive post to it later.
Is self-medicating something that you struggle with? How did you answer the questions listed? If you feel like sharing, feel free to leave a comment. Have a great weekend!