How Keeping a Journal Can Help You with Anxiety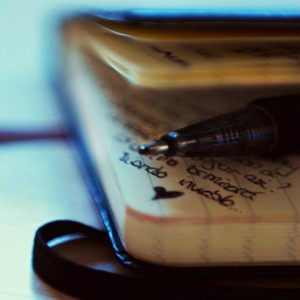 [Today is a guest post from ex-anxiety sufferer Ryan Rivera.]
If you suffer from anxiety, whether it stems from work, school, a friendship, a romantic relationship, your home life, or post-traumatic stress, it is important for you to have a safe place to retreat to where you can privately examine your thoughts and feelings without feeling overwhelmed or pressured. This is why many people choose to keep a private journal.
Keeping a journal is an easy, stress-free way to privately express yourself. It can be as simple as writing down a description of what you do each day: you'll find yourself adding little details about how you felt and what you thought about the people and events you encounter, and pretty soon you will be able to write entries entirely made up of things you are thinking about. If you enjoy writing, keeping a journal is an inherently soothing experience.
Whatever your skill or interest level, you will find that journaling is a reliable way of decreasing your anxiety.
How to "Write Right" and Achieve Anti-Anxiety Effects
Putting pen to paper may not seem like it would be much help at first glance, but that simple action can have a multitude of benefits for anxiety-sufferers. Find out below how allowing yourself to literally "read your own thoughts" can relax you in the short term, while making you less susceptible to anxiety attacks in the long term.
Create A Familiar Space – Journal writing, when done regularly (for example, right before you go to sleep) becomes more than just a chore. Your journal is a space for you to say whatever you want and examine how you really feel without any judgment or pressure from the outside world (and can be carried with you almost anywhere you go). The anxious brain appreciates reliable routines and spaces where it can feel safe, and over time you will begin to find that just picking up the pen in your hand and opening your journal to a fresh page in and of itself has an instantly calming effect on your mind and body.
Take Your Mind Off the Stressor – When you are anxious, sometimes what you need the most is a temporary escape. Journal writing can serve as an opportunity for meditation, not just on the event, person idea causing you stress but upon any subject you can possibly think of. When you need to calm your mind, writing in detail about what you see around you, or things that make you happy (such as baby animals, walks in the woods, your favorite holiday) can help you to stop obsessing and reach a more positive, functional mental state.
Get to Know Yourself – The added benefit of journaling is that it forces you to make time for yourself. In the midst of texting and running errands and getting to our jobs and various appointments on time, it's a rare moment when you are allowed to get in touch with yourself. Use this time to organize your thoughts. This allows you to find out, almost from an "outsider" perspective, what your thoughts/experiences "sound" like when written out, which can give you valuable insight into what parts of your mental process are less rational than you may have realized, and show you how you can behave more rationally next time.
"Tell Yourself a Different Story" – To help prepare your mind to better handle anxiety in the future, try writing "stories" or brief narratives in which you encounter and overcome your fears. Describe the scenario as vividly as possible, writing down exactly how you will behave and what you will say. Another good way to "rewrite" bad mental habits is to list any negative thoughts or stresses you are having that day, and then write an accompanying list of positive, believable thoughts or "solutions."
Expose and Halt the Vicious Cycle of Anxious Thoughts – Writing while experiencing anxiety can help you examine your thought patterns when you reread the entry later, or even while you are writing it. Watching for thoughts that reoccur within the writing can reveal to you to the beliefs that trap you in that loop of anxiety, which you can then address directly (for example, by asking yourself "what belief would be more useful to me?").
Whether you are dying to go out and find a beautiful and artfully designed journal that reflects who you are, want to save a few bucks on an ordinary one you can leave plain-looking or design any way you want, or find it easier to imagine keeping a journal online or in a text document, today is as good a day as any to start using journaling to stop anxiety from your affecting life.
About the Author: Ryan Rivera was someone that suffered from a great deal of anxiety in his life before finding relief from many home methods. Now he has a website about overcoming anxiety at www.calmclinic.com.