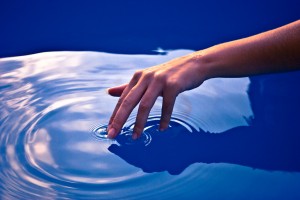 Around the time that I started this blog (back in late January/early February), I started experiencing very bad dissociation for the first time. I've written about my experiences with dissociation for Summer Beretsky's blog Panic About Anxiety before, so I won't rehash that for you in this post. I'm not experiencing the sort of acutely disturbing dissociation that I described in that post. Instead, I've been experiencing a sort of low-grade depersonalization for the past few months.
Unlike my bad experiences where I feel like I'm a video game character, lately I find myself just zoning in and out of awareness more often. A good example: once in awhile, when I'm alone, I'll forget where I am or how I got there. The memories flood back almost immediately, but it's unsettling, and it used to cause me a great deal of anxiety. Occasionally, it feels like I'm not physically present, but merely an observer to some alternate reality. It's sounds a bit odd, but I've come to accept it just comes with the package of chronic anxiety.
Luckily for me, while I can't seem to escape these experiences, I can certainly control how they affect me. Unless I'm in a particularly troubling situation, I'm generally not scared of these dissociative episodes anymore. To combat my anxiety, I've learned a host of grounding techniques that have really helped me. I wanted to share a few concrete examples with you today.
Also, just a quick note: grounding techniques are often prescribed for sufferers of PTSD (post-traumatic stress disorder), but I've found them useful in many different contexts. They are especially effective at diminishing the effects of my dissociation, but are also great for keeping panic attacks at bay as well.
Mental Grounding is all about keeping your mind focused in the present reality. Here are some examples:
Orient yourself in your physical surroundings. Sometimes I get so lost in my anxiety, I lose tract of myself and where I am. Try asking questions like, "Where am I?" or "How did I get here?" Sometimes just providing yourself with an answer to these simple questions is enough to pull you back down from your anxious plane. 
Orient yourself in the present moment. Similarly to losing myself, sometimes I also lose track of time (on a small scale and a large scale). If you have a watch or cell phone, check the time. Remind yourself of the date and day of the week. Ask yourself what month it is, and why you like or dislike that month.
Be intellectual. I use this tactic a lot. Remind yourself that you're not actually floating away from the present moment, you're just experiencing anxiety/dissociation. A typical reminder I might give myself goes something like, "Justin, you are present in this moment right now, you just feel otherwise because of your anxiety. You are experiencing dissociation, which is a common phenomenon among sufferers of anxiety like yourself. There is no danger."
Keep your mind occupied with other, more difficult, things. During some of my worst panic attacks, I find doing mental arithmetic helps me stay grounded. Starting at 2, begin doubling numbers until you lose track of where you are or can't do the mental arithmetic anymore. When you reach that point, start over. Keep going until you get bored. Chances are, if you are able to feel boredom, you've outlasted your anxiety. (This doesn't work as well for dissociation, unfortunately.)
Physical Grounding is about taking advantage of your senses to bring you back into the moment. Here are some examples:
Try the "3 by 5" technique. List three things you can see, hear, taste, touch and smell. 
Become more aware of your body. Think about your arms as you move them around, and pay attention to how they feel. Touch your face and note how it feels. Does your skin feel warm or cool?
Take a hot shower. The constant flow of warm water on your body will keep you grounded in the moment.
Try a progressive muscle relaxation. The goal is feel your muscles tense and relax. It's tedious and often doesn't hold my attention very well, but if you can manage to concentrate, it really does help relieve anxiety (and definitely keeps you grounded).
Try out these different grounding techniques and see which ones work well for you. Some will work better than others. Maybe you'll even come up with your own techniques.
Do you have any other grounding techniques that work well for you? If so, leave them in the comments below!