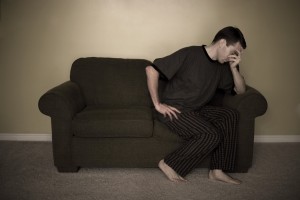 [Note: the following is the second guest post from Jared Friedman.]
Is your spouse acting differently? Are you feeling like something is wrong, but you can't quite put your finger on the problem?
The changes may be chemical, but are coming out to you as behavioral changes in the person you love most. There are signs you can use to gauge if your spouse needs mental health treatment.
Millions Affected
Depression and anxiety affect millions of people each day, and we often attribute the symptoms to long work hours, lack of sleep, or life changes, but mental illness is not something to take lightly.
Bipolar disorder, schizophrenia, borderline personality disorder, Seasonal Affective Disorder (SAD), obsessive compulsive disorder (OCD), and Posttraumatic Stress Disorder (PTSD) are altering the lives of silent sufferers, and the lives of those who care for them the most. When left untreated, mental illness only gets worse.
Warning Signs
Does your spouse show the following symptoms of mental illness? Do you need to look into mental health treatment?
1. Loss of Interest
For many people with the symptoms of a mental illness, activities and hobbies that used to bring joy are no longer of any interest.
Did you and your spouse used to participate in a group of any kind, or a social activity together that he or she no longer wants to do? If your spouse had a hobby that no longer warrants any time, or interest, this may be a significant sign of a mental illness.
Withdrawal from activities, friends, and family members is an indicator of the need for mental health treatment.
2. Changes in Mood
Does your spouse express, verbally or nonverbally, feelings of sadness, hopelessness, fear, or worry? Depression and anxiety are the most common forms of mental illness, but low self-worth and constant mental and emotional discomfort can also indicate another type of mental illness.
Did your spouse used to be happy and more upbeat than he or she has been lately? Changes in mood that have impact on relationships is a tell-tale sign of mental illness requiring professional assessment.
3. Anger or Hostility
Along with emotional changes and mood swings, newly expressed anger and hostility can indicate underlying issues. Anger can present as an external expression of internal pain and sadness. If you notice progressively worse rage in your spouse, it's time to think about mental health treatment.
4. Substance Use
In countless mental illness cases, the sufferer attempts to treat the symptoms with drugs and alcohol. If your spouse is drinking or using drugs to self-medicate, mental health treatment is probably needed. Dual diagnosis, the clinical applicability of a mental illness and a substance abuse or eating disorder at the same time, requires special treatment. Your spouse can be treated for two disorders at the same time, and can heal from both concurrently.
5. Detachment From Reality
Schizophrenia and Bipolar Disorder lead people to do things out of their normal character. The chemical imbalance leads to an inability to live a "normal" daily life, and can even lose touch with reality. If you notice a detachment of any kind in your spouse, seek the guidance of a mental health professional.
Treatment is available for every mental illness when approached the right way. Any signs of mental illness are cause for immediate intervention.
Jared Friedman has a masters degree in psychology from Pepperdine University.